Diamond Steel Fencing
Bison & Elk Corrals
Spike Box Ranch
This is the first set of bison corrals we built. It is a fairly elaborate system of super heavyduty, sheeted gates and pens built of 2-3/8" pipe. All of the joints are notched and welded.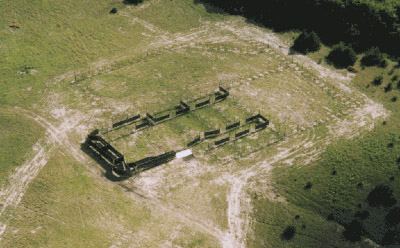 The gathering lanes and wings are a Plus One Manufacturing continuous fence product and have been added after initial construction as needed.
Niobrara Valley Preserve
The planning and design stages of a corral project are crucial to the efficiency of the end product. We have built dozens of systems and can assist you in developing a design that will work for your operstion.
This system was designed by Richard Egelhoff of Valentine, Nebraska. The story has been related to us by a couple of observers at the Preserve that the bison herd actually captured themselves in this system. Being the curious animals they are, they noticed something new when they were turned into the pasture where we had recently completed construction. The gates were all open and they just followed the wide funnel shaped area that you see in the middle left side of the picture. Before they knew what happened, they were captured.

Some more examples:
This is a combination Bison and Elk handeling facility and one of the more elaborate systems we have built.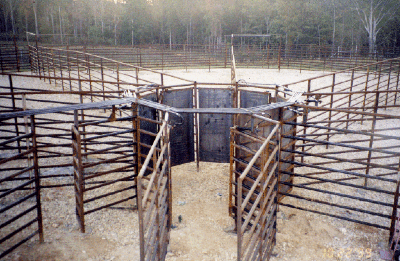 Based on a Temple Grandin design (that was modified to fit the space restrictions we had to work in), the animals can be sorted to eight different pie shaped pens as they come out of the working chute. The sorting gates are operated hydraulically from the working chute.