Plus One Manufacturing
The Cowboy Latch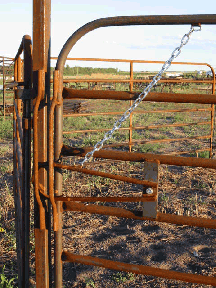 Invented by Nebraska cowboys to make riding through gates on horseback much easier. It is as easy to use from horseback as it is on foot. It is safe, strong, easy to install, and will last a lifetime. Try one and you will never use anything else!

Safe: smooth curve of latch mechanism means that horses and cows won't get poked in the side if they hit the end of the gate.
Strong: constructed of 5/8" cold roll steel rod.
Simple: simple to use just pull the chain to open, let go and gravity closes the latch. No springs to wear out and only one moving part.
Forgiving: with the real cowboy latch you don't have to have the gate lined up perfectly with the latch post as you do with other latches, in fact you don't even have to be close!


The design of the cowboy latch means that you have nearly 6 inches of tolerance - yes 6 inches. So if your gate sags, the latch will still work just like new!