Heavy Duty 6 and 7 Bar Gates
These gates are the best in the world, and they are affordable too!

6 bar gates are 4' tall
7 bar gates are 4'9" tall

Gates measure 3.0" shorter than advertised "hole" size.

All notched joints. A notched joint is significantly stronger than a pinched joint.

1.9" 14 gauge structural tubing for bars and uprights

1.9" 10 gauge tube for the end that has the hinges.

Hinges are large diameter, thick, sleeves. They turn easier, last longer, and are much stronger than other types of hinges.

You can use the ultra heavy duty 'all thread' hinges for wood posts, or you can use the special weld on hinges for steel posts.Chain latch is made of 1/4" plate and fits a 5/16" chain. It is strong, surelocking and easy to use. It is standard on all gates, as is 3' of 5/16" chain.

Available in sizes from less than 4' long up to 20'. Longer gates are available, though we recommend using two shorter gates or using a bi-folding gate in holes longer than 20'.

CUSTOM SIZES AVAILABLE - Contact Us!
Pre-Hung Gates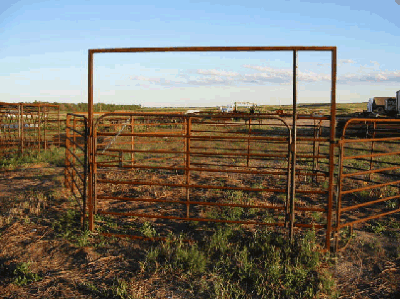 Pre-hung gates are perfect for portable corrals or for permanent locations too! Just chain or bolt it to a post, no need to spend time hanging a gate.

Cowboy latch is standard on all Plus One pre-hung gates.

Frame is strong & rigid, made of 2" square tubing.

These gates are 8'6" tall with loops on the end for easy connecting to portable panels.